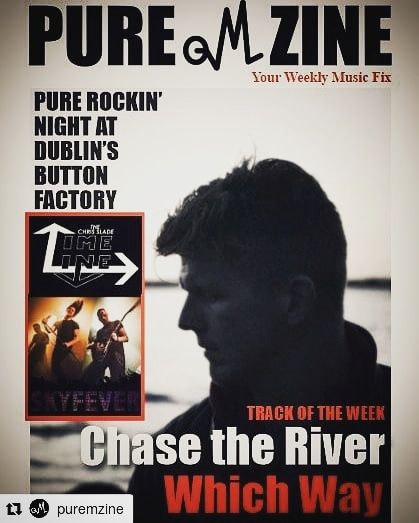 Which way was named track of the week, and got a rather tasty review which you can read below. Or, click the picture to read the magazine for loads of goings on in the music scene.
Fronted by Northern Irish artist Stuart Lunn, Belfast-based folk rock act Chase the River has been bouncing around the scene for the better part of half a decade now and in that time has succeeded in spawning a sizable assortment of acclaimed material as well as putting on a plethora of well-received shows on both sides of the Atlantic and winning a nomination for "Best Irish Act" at our very own Pure M Awards in 2015. 
Most recently though, Lunn unveiled an enlivening new single that's said to deal with the existentialism of life in the 21st century and the absurdities witnessed in modern society. Recorded at Snug Records recording studio in North Carolina and titled "Which Way", it commences with a captivatingly cool riff which establishes a stirring atmosphere ahead of the hushed but haunting harmony of the mellow introductory verse. 
The music and melody grow considerably more vigorous going into the grippingly energetic first chorus, after which the torch is passed to another alluringly light stanza. The ambience remains affecting moving forward from here as the whole thing trots thoughtfully towards an enticingly pleasant yet powerful instrumental exhibition that starts at the end of third minute and goes on to guide the proceedings to a suitably introspective stopping point. 
The result is a remarkably moving and amiable folk rock offering from Chase the River that's full of feeling and fervour. Its accessible combination of cordial yet impactful instrumentation and engrossingly slick and spirited vocals is likely to seduce a large listenership
You can find the song on spotify by clicking the picture below: